TZG's Eric Orlando Spearheads Craft Beer Regulatory Reform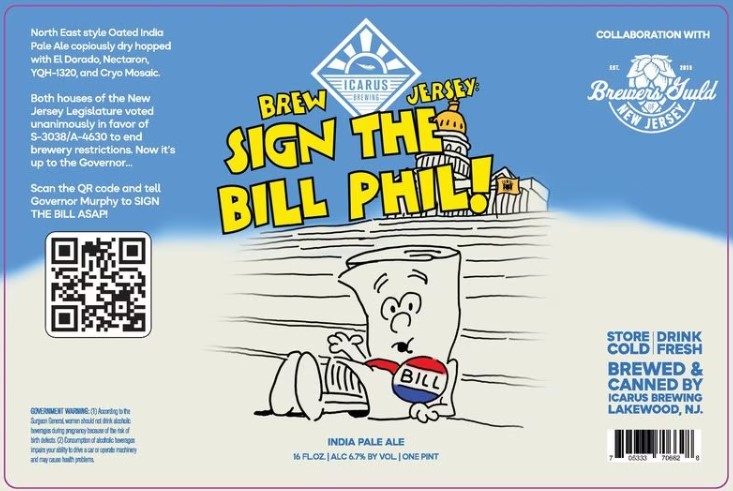 TZG's Eric Orlando, Executive Director of the Brewers Guild of New Jersey, continues efforts on behalf of the association to overturn stifling regulations that have burdened NJ's craft breweries since last year.
Despite the Legislature's unanimous approval of S-3038 (Gopal) / A-4630 (Calabrese) in June, Governor Murphy has yet to sign the bill. The bill ends restrictive licensing conditions imposed by the state that continue to impede the growth of New Jersey's craft brewery sector. Although the New Jersey Division of Alcoholic Beverage Control has granted a temporary suspension of brewery restriction enforcement until the end of 2023, brewers still need certainty and a stable regulatory environment to operate their business and continue to innovate and grow into the future.
To support these goals, the Guild has launched the latest iteration of its Brew Jersey collaboration beer campaign called "Sign the Bill Phil!". The beer, a New England-style IPA, was developed by Guild member Icarus Brewing Company located in Lakewood, NJ. All breweries participating in the project are asked to donate 25 percent of the proceeds from their version of Brew Jersey: "Sign The Bill Phil!" to the Brewers Guild of New Jersey to support the efforts to change the restrictions on New Jersey's limited brewery licensing rules. Ten breweries have signed up so far as of early August, with more signing up every day. Current collaboration participants are: Flounder Brewing Company in Hillsborough, Eight and Sand Brewing Company in Woodbury, Bolero Snort Brewing Company in Carlstadt, Buttzville Brewing Company in Washington Township, Ghost Hawk Brewing Company in Clifton, Farmers and Bankers Brewing Company in Woodstown, Seven Tribesmen Brewing Company in Wayne, Toms River Brewing Company in Toms River, Fort Nonsense Brewing Company in Randolph, and Departed Soles Brewing Company in Jersey City.
You can learn more about the collaboration and support the Brew Jersey campaign here.
About The Brewers Guild of New Jersey
The Brewers Guild of New Jersey is a trade association comprised of limited licensed breweries ("microbreweries") and restricted licensed breweries ("brewpubs") which produce an estimated 75% of the craft beer brewed in the state. Founded in 2018, the Guild was established to better represent the policy interests of New Jersey's pioneering independent craft breweries and brewpubs in the region's ultra-competitive alcoholic beverage market.
About The Zita Group
The Zita Group is a woman-owned government and public affairs firm, both founded and led by Patrizia "Trish" Zita. Our bipartisan, experienced team of strategic consultants is widely respected by elected, appointed and government officials of both parties across New Jersey's political landscape. We provide our clients with unique insights into the decision-making process at the highest levels. We bring to bear credible working relationships with executive branch officials, legislators, and staff. Our team's effectiveness has been demonstrated again and again by the results we achieve for our clients.